The use of promotional products plays a key role in promoting your business.  Imprinted items with your company's logo is a smart way to stay in front of your clients.  See how a few financial advisors have used promotional products to help boost their business.
Promo Items Boost Business For Financial Advisors
Jon L. Ten Haagen, a certified financial planner, often speaks at seminars on financial planning. "I present on timely matters and give enough information that people realize they need more, so they come in for a consultation," says Ten Haagen. Talks such as these give Ten Haagen the opportunity to provide those who attend with promotional giveaways, which includes a refrigerator magnet.
Ten Haagen has a host of promotional refrigerator magnets. Designed to look like an old-fashioned phone, the magnets feature his firm's contact information. He has been giving them out for years, and they continue to pay dividends.  "There are many times I will get a call from someone telling me they saw the magnet on someone's refrigerator and asked the person about it," says Ten Haagen, founder of Ten Haagen Financial Group.  Ten Haagen often gives two magnets to clients. "I ask them to put one on their refrigerator and give another to a relative or friend," says Ten Haagen. "You never know where it will lead. I'll get calls from friends and relatives who see them."
Additionally, Ten Haagen gives out promotional pens and small flashlights that fit on keyrings, which also includes  his firm's information.  Ten Haagen is also a member of a yacht club and  supplies keyrings that float to other mariners. "Boaters are always losing their keys overboard," he says with a laugh.
One of the ways Irwin Gross, a partner with Family Wealth Partners, achieves his thriving referral rate is through personalized service for his clients.   This includes sending consolidated financial reports four times a year and customized birthday cards. Gross supports this outreach with promotional product initiatives that include giving clients laser-printed notepad holders, personalized pens and plaques.
Wealth manager Annette Bau builds relationships through sending personalized cards and food gifts, such as truffles on Valentine's Day. She also hosts parties for clients, including a salsa dancing event on Cinco de Mayo.  These events provide a great opportunity for memorable, promotional giveaways. "It's important that you build a relationship," says Bau.
Often, personal finance firms sponsor events, such as charity walks or community initiatives. Using imprinted items like T-shirts, caps and water bottles gets a firm's name featured prominently and positively.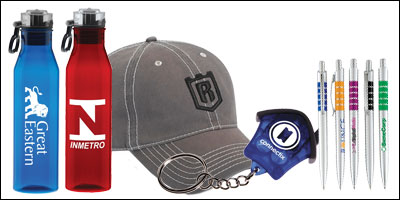 Visit Executive One Solutions website for promotional ideas that will help boost your business.